FEDERAL MEDICAL
MARIJUANA EXEMPTEES

Past & Present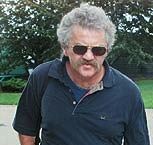 FEDERAL MEDICAL MARIJUANA EXEMPTEE
RIP – Michael Patriquen on June 22, 2011
1953– 2011
Michael was a member of the CCC, Leader of the Nova Scotia Marijuana Party and a prolific activist
---
FEDERAL MEDICAL MARIJUANA EXEMPTEE
RIP – Catherine Devries, 1958 – 2007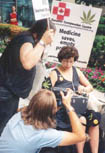 ---
FEDERAL MEDICAL MARIJUANA EXEMPTEE
RIP – JANE PARKER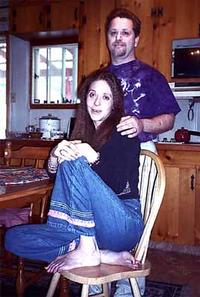 Jane and husband Gary
Courageous East Coast activist Jane Parker from Annapolis
County has left us. Jane was only 42
Jane had run out of her Medical Marijuana and was prescribed high doses of morphine to
reduce the pain she suffered from due to her battle with MS. Morphine unfortunately does
NOT have the same medicinal properties as Medical Marijuana and this, led to
Jane's untimely death.
Jane, like so many others before her, fought an uphill battle with Health Canada and our
GREAT Canadian Government who seem to turn a blind eye to the sick and dying people
who only want Medical Marijuana to feel better and improve their quality of life...
... WHAT IS SO WRONG WITH THAT ?!
Read More about Jane's story
Click Cross


---
FEDERAL MEDICAL MARIJUANA EXEMPTEE
RIP – JUANITA AGAWA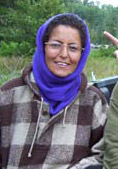 Juanita Agawa at Hempfest 2003
Juanita Agawa has left our world and has joined with
her ancestors and friends in the Spirit World.
She departed this morning Jan 29, 2004
at 6:00 AM with her youngest son by her side.
She left in peace and no pain.
---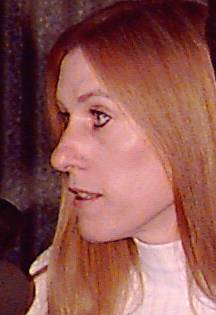 Lynn Harichy
CRUSADER FOR POT DIES AFTER MS FIGHT
2003 The London Free Press
Author: Patrick Maloney, Free Press Reporter
Londoner Lynn Harichy, whose efforts helped to legalize medicinal marijuana use in Canada, died Christmas Day after a lengthy battle with multiple sclerosis. She was 42. As part of a national network of lobbyists, Harichy was a longtime crusader for the legalization of pot for medicinal uses. She once lit up a joint on the steps of London police station, an act that led to her arrest.
Two years ago, following the efforts of pot crusaders like Harichy across Canada, the federal government eased the law on pot use for those suffering from serious illnesses. The Office of Cannabis Medical Access was established to regulate use of medicinal marijuana in cases where it would have some medical benefit. Harichy's efforts to that end leave a proud legacy, says her brother, Wayne Fortnum. "A lot of people when they go, they didn't leave anything behind. She has something. I'm proud that she did what she thought she needed to do."
Harichy ran the Cannabis Compassion Club, which supplied pot to sick people. She served more than 600 people who suffered from such diseases as MS, AIDS, cancer, epilepsy and chronic pain. As the rules began loosening around marijuana use for the seriously ill, Harichy once told The Free Press why she started the club.
"The people who bought from us just couldn't go out on the street," she said. "It would have been too dangerous for them."
Despite the criminal charges it caused her, and the social embarrassment she once admitted to feeling, Harichy continued pushing the cause until her MS began to take its harsh toll over the past year, her brother noted.
"She was dedicated to her cause," Fortnum said. "When she got her mind ( set ) to do something, she did it."
MAP posted-by: Richard Lake
---
A True Medical Marijuana
Crusader has left us
Rest In Peace now Donny Appleby
Donny was 44 years old at the time of his death
Click here to see Pictures of Donny's
Memorial Service in Ottawa
---